Zen stands for simplicity, minimalism, and relaxation. In interior decor parlance, Zen refers to maintaining a balance or harmony in the home. It is that place where you can be yourself; free from all stress and strain of everyday life. Having a zen corner in the house lets you unwind and relax after a hard day at work.
Zen is not a proper design style like contemporary or traditional. You can convert your already existing design style into Zen by incorporating a few changes.
Go for Neutral shade
As mentioned earlier, Zen is all for maintaining harmony and relaxation. Thus, the colors used in the Zen style should be neutral. Earthy colors like white, grey and beige can be incorporated in Zen style of decor. These colors have the power to provide calmness and relaxation.
While decorating the interior you can go for a monochromatic color scheme with a mix of white, beige and other pastel shades. This helps to create diversity while maintaining the zen style.
For eg; You can paint the living room in an off-white color and go for a beige-colored sofa. Other decorative elements that you use should also be of the same color palette.
Incorporate Soft Flooring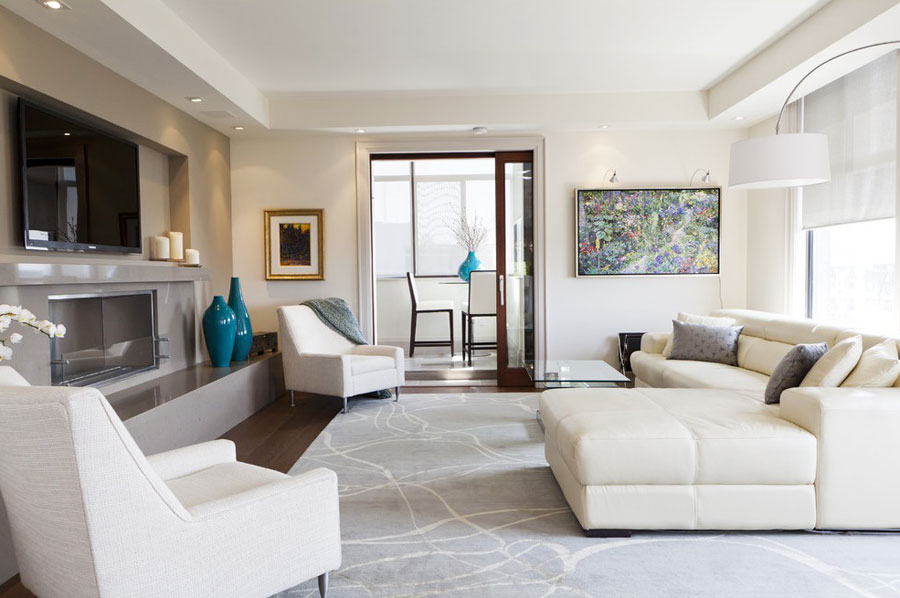 Softness under the feet is another important characteristic of Zen decor. Whether it is in the flooring or rug, the feeling that your feet get should be soft and supple. This provides a relaxed and comfortable feel.
If you are using an ottoman to keep your feet, make sure that the upholstery is soft. You can even use a fur throw to add to the softness.
The color of the flooring or rug is also very important. You can use neutral shades like wooden flooring or beige coloured rug to complete the Zen style.
Select natural fabric
The fabric that you select for furnishing should be natural and soft to touch. Linen and wool are excellent choices for upholstery. You can select one depending on the climatic condition of your region.
For eg; if you are living in a tropical zone, then you can go for beautiful linen curtain and upholstery. This provides an airy and natural feel to the room and brings in a sense of relaxation.
Go for soft light
Direct and bright sunlight is a big NO in Zen style decor. The light should be soft and create a relaxing vibe. You can mix different sources of light to get the right intensity.
Candle lights are the best in the Zen style of decor. You can decorate your zen corner with beautifully scented candles. These candles not only provide light in the right intensity but also creates a calming vibe owing to its beautiful aroma. Scented candles with lavender and sandalwood aroma can be used to create the right Zen ambiance.
Incorporating Zen decor style for the entire house may not be feasible for all. The trick here is to find a spot in the house that you can convert into a Zen corner. It can be your bedroom, prayer room or even a corner of the living area.
Once you find the Zen corner, place a Buddha statue as Buddha is the embodiment of calm and peace. Once done, you can decorate it in the above manner to create your personalized Zen corner.